This information explains the steps to follow for the testing of the Threat Alert System.
When the LynxClient message appears on your computer screen, simply follow the on-screen prompts to complete the test and location verification.
During the test, you will press the key combination that sends an alert; please press keys ONLY ONCE; pressing them again will trigger an actual alert! Following the keyboard test, you will be asked to verify the location of your computer via a screen message.
Click the Green "Test Now" Button
From your Keyboard, press F9/F11 once the LynxClient Testing Wizard screen appears
Wait for green check
Click "Next" button
Verify location is correct

If No – "Click this location is incorrect."

Make necessary changes

Enter the computer location in the first box, using the following format:

Full name of building, room number, phone extension

When entering your location information:

Example:

Ben Hill Griffin, 250, x1234
Sugden Resort & Hospitality, 125, x1234

Enter your telephone extension only in the second box.

If yes - "Click Yes this location is correct."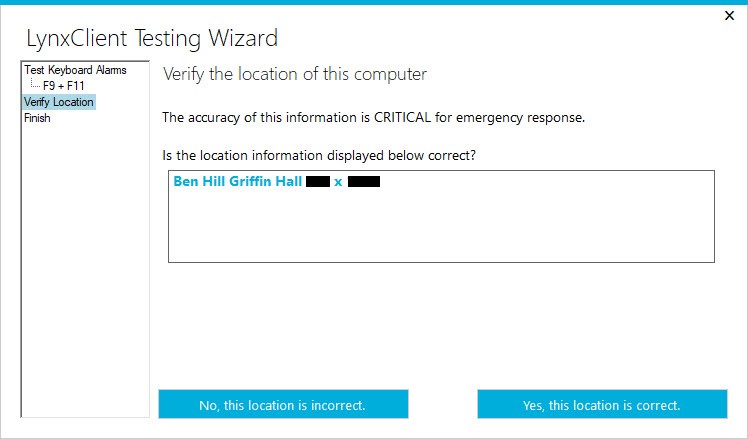 FGCU appreciates your cooperation in maintaining the integrity and veracity of our Threat Alert System through these monthly tests.