How to Create Contact Groups in Outlook
General Information
Use a contact group to send an email to multiple people—a project team, a committee, or even just a group of friends—without having to add each name to the To, Cc, or Bcc line individually. To create a contact group please refer to the following steps.
Steps
1. On the Navigation bar, click (Bottom left of Outlook Application)
Note: You can find people in one of two places on the Navigation bar.
If you're using the compact Navigation bar, click the People icon.
If you're using expanded Navigation bar, click the word People.

2. Under Home on the Ribbon, Select New Contact Group.
3. Give your contact group a name, like Special Projects.
4. Click Add Members > From Address Book.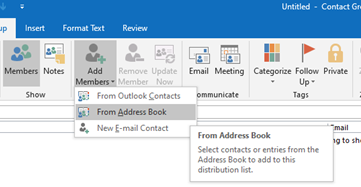 5. In the Search Bar, type the names of the people you would like to add to the group. Double click twice to add people to the group.
6. Once you have all the members, click
The people will appear as a list of members for your contact group.
7. Click Save & Close.
How to Send an Email to Contact Groups in Outlook
Steps
1.On the Ribbon click, New Email.
2. When the massage opens, click To…
3. When the box opens, change Address Book drop down to Contacts.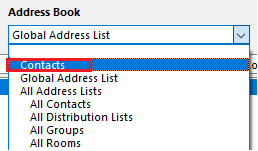 4. Double click on the Contact Group you would like to send your message to.
5. Click The name of the Contact Group will appear in the To… field.