By using the Calendar you can create appointments and events, organize meetings, view group schedules, and much more.You can send a meeting request to one or more people. Outlook tracks who accepts the request and reserves time on your calendar for the meeting.
Create an appointment
1. In Calendar view, within the Home tab, click New Appointment
2. This will open another window where you can fill in the details of the appointment you are scheduling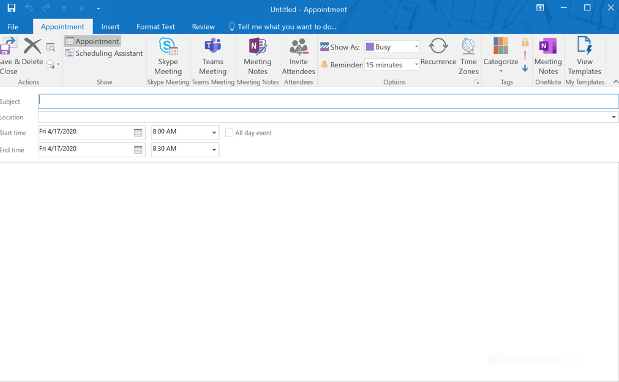 3. When you've finished filling in the details click the Save & Close button to add your appointment to your appointment to the Calendar.

Schedule a meeting with other people
1. In Calendar view, within the Home tab, click New Meeting
2. This will open a new window where you will then fill in the details for the meeting
Note: Click to learn more about using the Scheduling Assistant, which enables you to view invitees' availability while creating the calendar invite.
3. After filling in the details, you will click the Send button to send out the meeting invitation.