You can send a sharing invitation to other users so they can view your calendar in their own Calendar list.
This Article will give instructions on how to share your calendar within the Outlook desktop application.
In this article:
Permission levels for the shared calendar:
You can choose from several different permission levels when sharing your calendar.
| | |
| --- | --- |
| Free/Busy Time | Allow the user to view when you are busy or free, but not the information of any of the events on your calendar |
| Reviewer | Allow the user to view all of the information on your calendar, but they cannot create or edit events. |
| Author | Allow the user to view all calendar information and can create new events, but they cannot edit or delete events they did not create. |
| Editor | Allow the user to view all calendar information, create new events, and edit and delete existing events. |
Sharing a Calendar:
1. Click Calendar Icon in lower left corner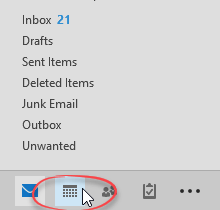 2. In the left side bar Right Click the calendar you want to share, then click Properties.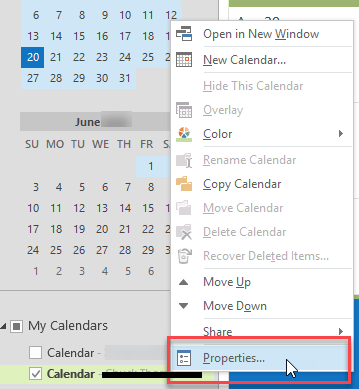 3. Click the Permissions tab
4. Click Add to add permissions for a new user, or click the name of the existing user in the list to change their current permissions.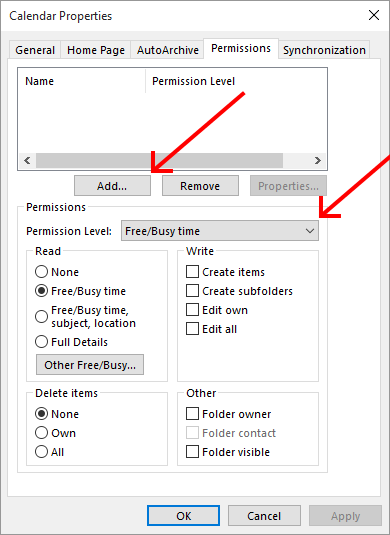 5. After clicking Add it will open the address book where you can search and select the person you want to share your calendar with.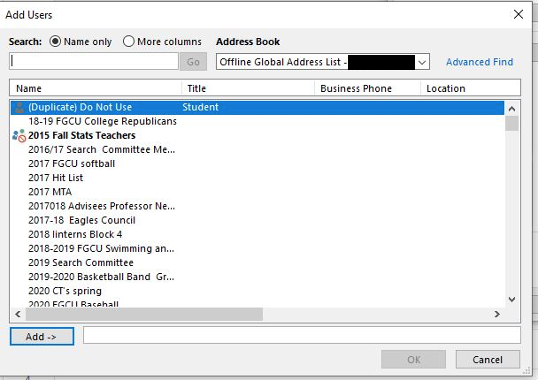 6. Click Ok after you selected the name you want and it will return to the permissions window where you will set the permissions for the person and click Apply and Ok.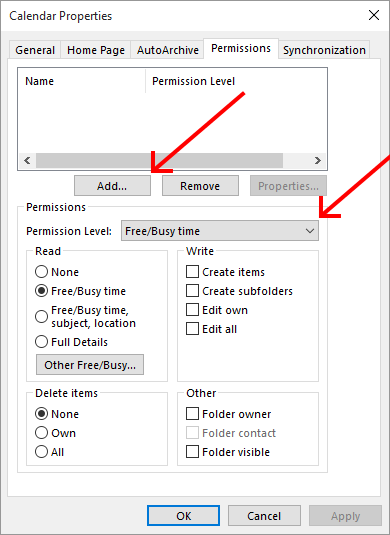 7. While still in the Calendar window, make sure the calendar you want to share is selected with a check mark, and then on the top bar, select Share Calendar
8. This will open an e-mail window where you will send the Calendar invite to the person you set the permissions for. You'll add them as the recipient and they'll receive an e-mail inviting them to view your Calendar.
Stop sharing a Calendar
:
1. Click on the Calendar icon.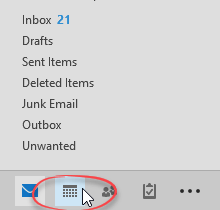 2. Under My Calendar, right-click on your Calendar, then choose properties…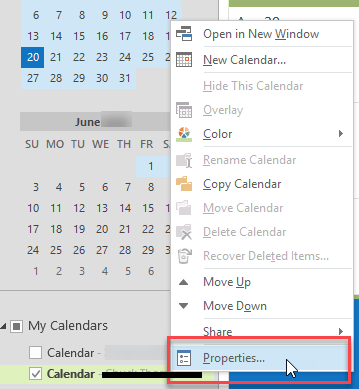 4. Select the tab Permissions.
5. Select the name of the person you want to stop sharing a calendar with, then click Remove.

6. When you finish, click Apply and then Ok.