Scheduling a Microsoft Teams Session with Audio Bridge
Log into your webmail (https://outlook.com/fgcu.edu)
Go to your Calendar (Click on the "Calendar" icon on the bottom left [Figure 1])
Create a new event (Click "New event" at the top left)

Add a meeting title such as "Staff Meeting April 2020"
Invite your colleagues by adding their email addresses
Set the meeting for the time you would like
For the "Add online meeting" option, select "Teams meeting" (Figure 2).
Enter a description for your meeting.
Note – When you have an audio bridge available, the call in information will automatically be added after you send the meeting.

Click "Send"
Recommended: Allowing callers to automatically join the conference and restrict presentation rights
Log into your webmail (https://outlook.com/fgcu.edu)
Go to the App Launcher (9 dots in the upper left corner) click on "All apps ->" and click on the Teams icon (Figure 3 & Figure 4)
Click on "Calendar" on the left side and locate your meeting that you scheduled (Figure 5)
Click on the "Meeting options" link (Figure 6)
Select "Everyone" for "Who can bypass the lobby?" (Figure 7)
If you wish to restrict people in the meeting from presenting, select the appropriate option from "Who can present?"
Click "Save"
Joining Conference Bridge From Your Phone Only (Host)
Call the number in the meeting invite (Figure 8) and enter the meeting ID # from the same invite
When asked if you are the meeting organizer hit the * key
Enter your conference PIN and hit #. (If you do not know your conference PIN, you can reset it from the link in the meeting invite after logging in with your FGCU email address. [Figure 9])
Record your name and hit #
You will hear the confirmation that you are joining the meeting as a leader and will be placed into the conference. Attendees are now ready to participate.
Joining your Virtual Meeting & Conference Bridge from Your Computer (Host)
Log into your webmail (https://outlook.com/fgcu.edu)
Go to the App Launcher (9 dots in the upper left corner) click on "All apps ->" and click on the Teams icon (Figure 3 & Figure 4)
Click on "Calendar" on the left side and locate your meeting that you scheduled (Figure 5)
Click on the "Join" button on the top right corner (Figure 10)
If you are asked to allow your camera or microphone, please click "Allow" (Figure 11)

You can turn on/off the camera and the microphone
If you are not using the correct camera, click on the "Devices" option and pick the correct device from the menu that appears

Once you are ready to start, click the "Join now" button (Figure 12)
Joining your Virtual Meeting (Guest)
Participants can join the meeting from the email invite that was sent or call in using the conference bridge number and conference ID that is provided in the email invitation (Figure 8)
Conducting the Meeting
If you chose to use the lobby feature and you are in your meeting, attendees will be ready to join. If an attendee tries to join, you will get a notification to admit them to the meeting. Click the "Admit" button when you are ready to start. (Figure 13)
You can mute participants by clicking on the ellipsis next to their name and selecting "mute"
Recording the Meeting (From Computer Only)
If you would like to record the meeting, click on the ellipsis and select "Start recording" (Figure 14)
Repeat the above process to stop and select "Stop recording"
Your meeting will be available a short while after the meeting has concluded or you stopped the recording
Concluding your Meeting
If you are using just the phone, simply hang up
When you are done, select the "Hang up" icon
______________________________________________________________________
Figure 1: Calendar icon in the webmail
____________________________________________________________________________________
Figure 2: Making a Teams meeting
______________________________________________________________________
Figure 3: Opening the App Launcher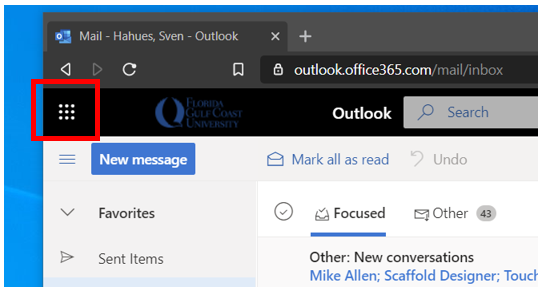 ______________________________________________________________________
Figure 4: Teams icon
______________________________________________________________________
Figure 5: Calendar icon in Teams
______________________________________________________________________
Figure 6: Meeting options
______________________________________________________________________
Figure 7: Lobby bypass and presentation options
______________________________________________________________________
Figure 8: Dial in details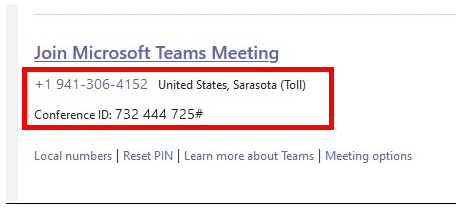 ______________________________________________________________________
Figure 9: Reset PIN
______________________________________________________________________
Figure 10: Joining the Teams meeting from Teams
______________________________________________________________________
Figure 11: Allowing Camera & Microphone
______________________________________________________________________
Figure 12: Joining the meeting from a computer
______________________________________________________________________
Figure 13: Admitting attendees
______________________________________________________________________
Figure 14: Record meeting