Your acceptance letter from FGCU titled "Welcome to FGCU" will contain instructions on how to access your account for the first time.
Start Here:
Visit https://www.fgcu.edu/myaccount and click on the claim account option:
Step 1: Enter your user information: (Figure 1)
Enter the requested information to identify yourself to the system.
NOTE: Please use the first and last name that were in the email you received from FGCU when filling this out.
First name
Last name
The UIN listed in the email you received from FGCU
Enter your birthday
Solve the CAPTCHA
Click "Submit"
Step 2: Review and accept terms of use (Figure 2)
Read FGCU's Technology Acceptable Use Policy
Accept if you agree
Step 3: User Details (Figure 3)
The system will display your EagleAccess ID. Please write this down as you will use this to log into many of FGCU's systems
Click Next
Step 4: Manage security questions (Figure 4)
You will be asked to enter your security questions that you can use in the future to change or reset your password.
You can change each question by clicking on the pencil next to the question, or use the default questions (Figure 5)
Answers have to be a minimum of 3 characters long
Click "Submit" when you are done
Step 5: Create and confirm your new password (Figure 6)
Set your password following the policy on the right
Click "Reset Password" when you are done
If your password does not meet the password standard, the system will show you why it did not work so you can make the necessary adjustments (Figure 7)
NOTE - If you start this process and do not finish it, you will need to call the University Help Desk to finish your setup.
Figure 1 - Entering your user information
Figure 2 - Acceptable Use Policy
Figure 3 - User Details
Figure 4 - Manage your security questions
Figure 5 - Change security questions
Figure 6 - Create your password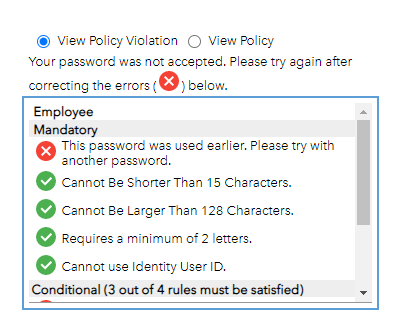 Figure 7 - Password policy