Accessing Your Zoom Account
Purpose:
This document shows how you log into your Zoom account to schedule or start a meeting. Please note that FGCU suggests you use Canvas Conferences or Microsoft Teams, which are both supported by ITS and Digital Learning.
Note:
If you already have a Zoom account, or Zoom installed on your computer, please make sure you sign out of the existing application, so you can sign back in with the new account using the steps below.
Steps:
Visit https://fgcu-edu.zoom.us
Click the "Sign in" button (Figure 1)
If you are not already signed into single sign you, log in with your username@fgcu.edu at the FGCU Eagle Access page.
NOTE FOR PREVIOUS ZOOM USERS ONLY: If you are a previous users of Zoom, and you registered with your email@fgcu.edu you will be asked to consolidate your account. If you would like access to all of the features that are licensed for FGCU, you must consolidate your account by selecting "Join the Account" and clicking "Continue"
For more information, please visit Zoom's knowledge base: https://support.zoom.us/hc/en-us/articles/360035969131-Account-consolidation-with-associated-domains
You will be brought to your account from where you can start/schedule a meeting (Figure 2)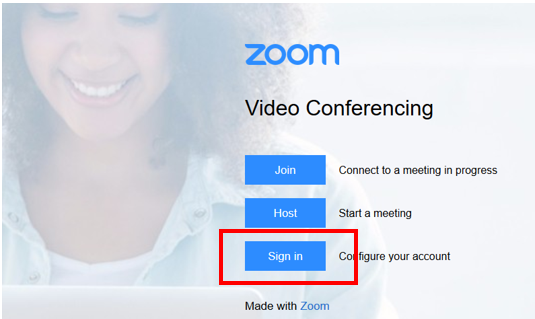 Figure 1 – Signing In

Figure 2 – Your account