This article contains information for downloading, installing, and configuring Respondus Lockdown browser on Microsoft Windows.
Respondus LockDown Browser Overview
Respondus LockDown Browser is a custom browser that restricts students to just the Canvas testing environment. When instructors specify that a quiz must be taken using the LockDown Browser, students are unable to print, copy, visit other websites, access other applications, or close a quiz until it is submitted for grading. The primary application for LockDown Browser is proctored testing in campus computer labs, but it can also be used for online "take-home" tests.
System Requirements:
OS Version: 10, 8, 7, Vista
Free Space: 75 MB permanent space on the hard drive
Installation Process:
Step 1 - Download the LockDown Browser Installer
Windows install Link: http://www.respondus.com/lockdown/download.php?id=575143555
Click on the Install Now option shown below
The download will appear in your download browser's download manager, located in the bottom left corner of your web browser. Once the download is completed, click LockDownBrowser-2-0-x-xx.exe to begin the LockDown browser installer setup.

Step 2 - Launch the Installer
Read over the terms of service, accept, and click next.
Lockdown browser will then install onto your computer, and press finish
Once LockDown Browser has been installed, locate the "LockDown Browser" icon:
The Icon can be found :
- on their desktop as an icon shown below

or:
1. Press on the "Start Menu" (Bottom Left of Screen)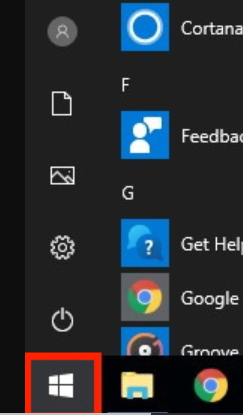 2. Start Typing "lock down"


A search box should appear and "LockDown Browser" should be seen as Best match
Step 3 - Launch the Application
Now that you have located a "LockDown Browser" icon on your device double-click it to Launch the Application.
Below is the loading Screen that will appear:
It will bring you to FGCU Canvas Login page Similar to Below:
Here Log in with your Eagle Email and Password.
Simply log in and navigate to the exam in canvas, as you would with a regular browser.