Purpose:
This process outlines how to use the monthly Workday attractive asset report to create a list of devices that should be considered for replacement. ITS suggest that you replace any items that were acquired 5 or more years ago.
Steps:
Log into Workday and go to your Notifications
Locate the notification called "Document Available" that alerts you that "FGCU Assets Issues to Property Manager <date>.xlsx" report is now available. (You will receive a new monthly report on the 1st day of every month - Figure 1)
Download the report from Workday to your computer
Find and open the file in Excel, which will typically be found in your "Downloads" folder
Highlight and delete the first 5 rows to allow for easier sorting of the data later(Figure 2)


Clicking on the #1 next to the start of the rows and dragging your mouse down to the #5.
Then right click and pick delete

Highlight the remaining columns and rows (Select all button, or ctrl+a on your keyboard - Figure 3)
Sort the data by the "Date Acquired" column ("i")

On the "Home" tab, under editing, click "Sort & Filter", then pick "Custom Sort" (Figure 4)
Under "Sort by" select "Date Acquired" and make sure "Oldest to Newest" is selected (Figure 5)
Click OK

Your inventory will now be sorted oldest to newest, and you can use this data to determine which devices you should consider replacing
What to replace?
ITS suggest you replace any computer 5 years or older, as they are likely out of warranty and at greater risk of malfunction
Please note that these recommendations do not include iPads or Android devices. These are up to each department to decide when to replace
Notes
ITS will eventually stop supporting computers due to the age of the hardware and incompatibility with updates released by the software vendors
If you have questions about a specific device on your list, please contact the University Help Desk and we will be happy to assist you
For an up to date list of computer recommendations, please visit: https://www.fgcu.edu/its/staff/computerconfigurations
Figures:

Figure 1 - Workday Property Report Notification

Figure 2 - Delete first 5 rows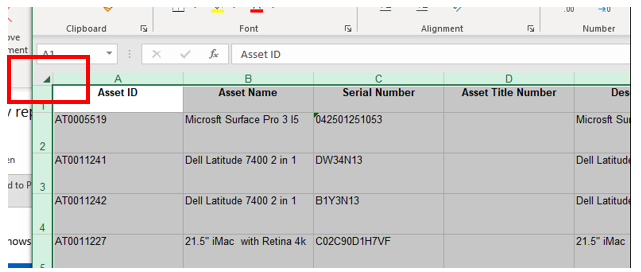 Figure 3 - Select the remaining data
Figure 4 - Custom Sort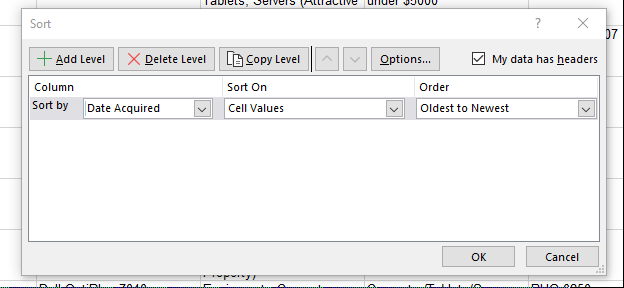 Figure 5 - Sort settings