Purpose:
This document outlines how FGCU faculty can log into Qualtrics. You are required to have an active @fgcu.edu email account in order to use the survey platform.
Logging in:
Visit https://fgcu.qualtrics.com and log in using FGCU SSO.
If you are a first time Qualtrics user, please select No, I don't have a preexisting account here (Figure 1 - Preexisting account question)
Select Sign in with a username and password
Select FGCU SSO
Accept the Terms of Service and select I accept (Figure 2 - Terms of Service)
You are then redirected to the Home page of your Qualtrics account.
Who can log in?
Anyone with an @fgcu.edu email account can log in. If you are a student and would like to use Qualtrics, please work with your professor to have them request access for you by contacting the University Help Desk.
Supplemental screenshots:
Figure 1 - Preexisting account question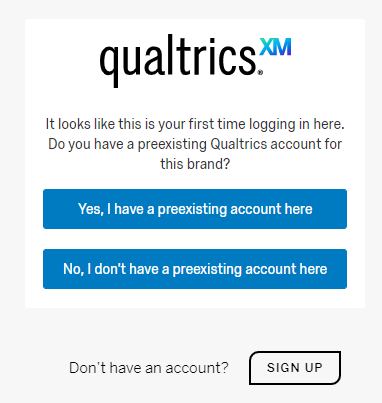 Figure 2 - Terms of Service